Content marketing is a Key To Online Success
Prolanz Digital Marketing Agency is the best content marketing agency in Lagos, Nigeria. We have started and managed successful content marketing strategies for many businesses in Nigeria.
Partner with Prolanz Digital Marketing Agency and let's start a content marketing campaign that drives real results. Talk to us about your goals, budget, and more. You can contact us online or give us a direct call at +2347088546064 to talk about your business!
What Is a Content Marketing Agency?
A content marketing agency creates content marketing strategies on behalf of its clients. These clients can be local businesses, small brands, online businesses, companies and even organizations.
At Prolanz Content Marketing Agency, we plan, produce, distribute, and measure the impacts of content on behalf of our clients. This includes blog posts, infographics, videos, social media content, long-form guides, whiteboards, podcasts, and lots more.
Our content marketing strategies aim to provide value to the audience of our clients. At the end of the day, we will successfully build a strong customer base and generate sales that maximize revenue.
What Our Content Marketing Agency in Nigeria Can Do For You?
Benefits of Content Marketing For Businesses in Nigeria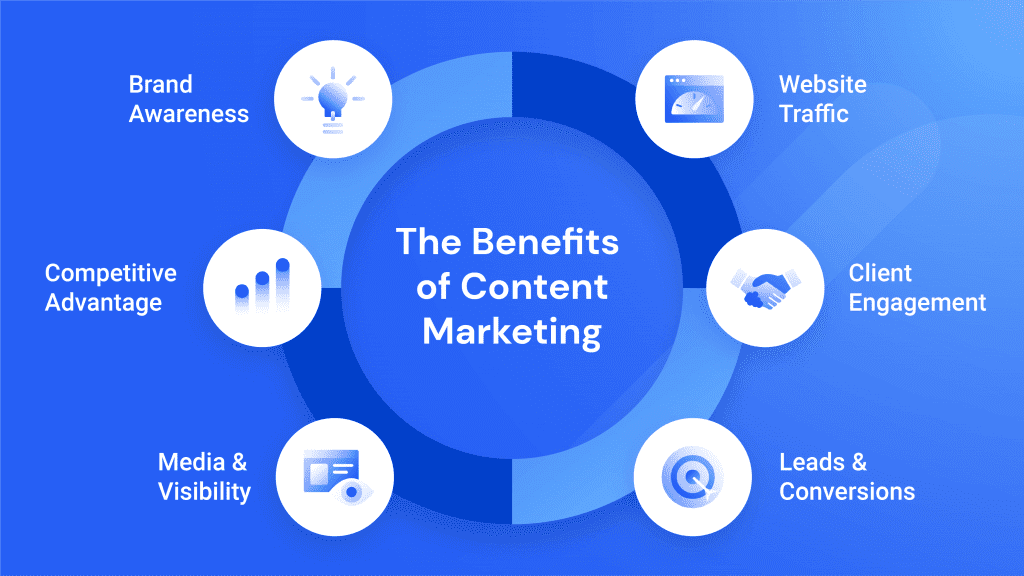 1. Content Marketing Drives More Sales
And that's the point exactly! Everything you do for your business is to increase sales, right? Besides, having thousands of traffic visits and social media engagement is meaningless if they don't result in more sales.
Now here's the thing. More than half of your leads (potential customers) won't buy from you the very first time they hear about your brand, business, company or organization.
This is a normal human activity that applies to everyone, and your potential customers are no different. As humans, we all have to go through a buying process before we can decide to make a purchase.
Note that the time duration of this buying process will depend on the significance and price of the item or service involved. For instance, a carton of milk will have a faster buying process than a new car.
Before consumers can make a purchase, they have to first realize that they have a problem that needs to be solved. This is the AWARENESS stage.
From there, they will do some research to better understand their problem. This is known as the CONSIDERATION stage.
After thorough consideration, they will make a decision based on the available solutions. Eventually, they will go for the option that is best for them, while also being affordable. This is known as the DECISION stage.
An effective content marketing strategy will assist your potential customers during these 3 stages. It starts by first making them aware of what might be the solution to a problem. In other words, by educating them on what they're searching for.
Our content marketing agency brings your potential customers one step closer to your point of sales. We also establish a relationship with your target audience, which will in turn make them more likely to buy from your business rather than your competitors.
2. Content Marketing Boosts Your Brand Awareness
You've probably heard this many times. At this point, almost any digital marketing activity can boost brand awareness. However, content marketing does it in a better way.
Content marketing will rank your blog posts and articles on the first page. Your content and your brand will be visible whenever anyone is searching for the products and services your business offers.
Here's a near-real example of how it works.
Let's assume you own a graphics design firm, and you published an informative blog post on "how to start graphic design," and it ranks on the first search results page.
Now hundreds of Nigerians search for that phrase on Google every month. And that's only the exact phrase. Others search for similar phrases, and the total runs into thousands.
If something as great as this were to happen to one of your blog posts, calculate what you will get every 3 months, every 6 months and every year.
That will be a very successful brand awareness campaign, except that you didn't plan for it. You were planning to rank on search engines and then noticed that your brand awareness has also increased.
3. Content Marketing Grows Your Social Media Audience
Whenever a potential customer reads one of your blog posts and sees it as valuable content he/she will be prompted to follow you on social media.
The same applies to all your readers that want to stay up to date on future articles that you write. Many of these readers will also share your blog posts with their audience on social media, which will further grow your follower base.
4. Content Marketing Drives More Visibility to Your Product and Service Pages
Content marketing will, directly and indirectly, put more potential customers on your product and service pages.
If you write a blog post related to the product or service your business offers, some of the readers will visit your product/service pages after reading the content. (Remember to insert the link to those pages in the article).
Now that's a direct instance. Let's talk about an indirect instance.
You know, whenever a website creates very great content, other sites will also link to it, either for reference, informational or even SEO reasons.
Now, if you happen to create fantastic content, big websites with large audiences can also link to it. In that case, their readers can visit your website to read more.
When they do, they will stumble on that link that leads to your product/service page. They might even make a purchase, but if they don't, they will be aware of your existence.
Now they know your website, your business and the products/services it offers. And don't forget, you have content marketing to thank for it.
5. Content Marketing Improves Customer Service Experience
Customer service is all about how well you satisfy your customers, even when they're not currently making a purchase. They might have made a purchase, or even yet to make one.
Either way, how fast and how well you respond is what will determine if they'll buy from you again.
Are there certain questions that your customer support or sales team answer every day? If yes, then you can write about them. Answer them in a way that a 10-year-old would understand, and then compile them into a post.
If the questions are voluminous, you can make the answers a series of articles that your customer service and sales team can share whenever they get enquiries from potential and existing customers.
How expensive is content marketing?
What do content marketing agencies charge?
The price of digital marketing services varies. The same applies to content marketing. There are many forms of content, so we will focus on the written and visual ones.
Written content can be in the form of blog posts, articles, or in-depth guides and downloads. Visual content can be in the form of images, videos, GIFs, photographs, flowcharts, illustrations and motion graphics amongst others.
Depending on other pricing factors, a content marketing agency in Nigeria may charge between ₦100,000 to ₦500,000 per month.
The biggest benefit of working with an agency like Prolanz Digitals is that our content creators are familiar with writing for marketing purposes, while also being experts in optimizing copy for search engines.
What Type of Content Does Prolanz Digitals Create?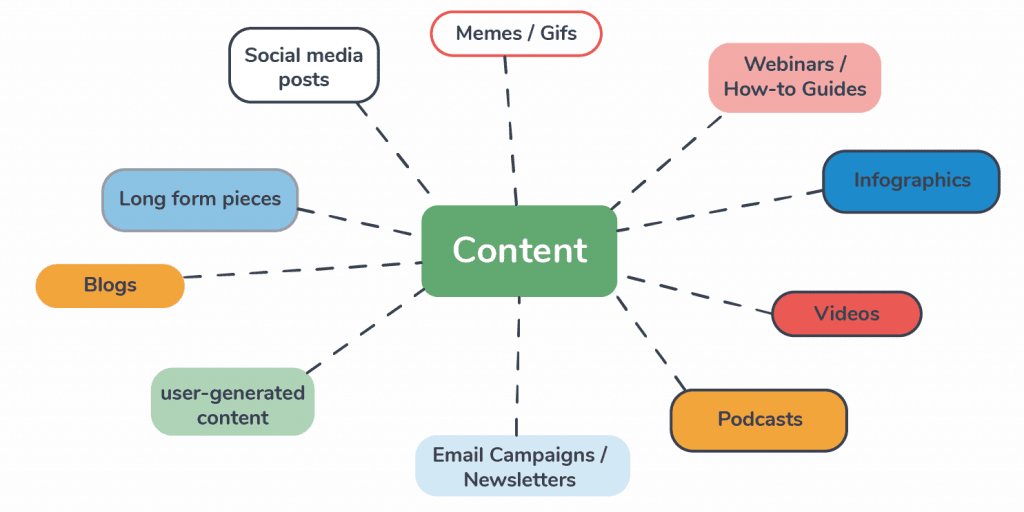 At Prolanz Digital Marketing Agency, we incorporate the most essential content types into our content marketing services.
1. Blog Posts and Articles
Blog posts and articles are among the chief cornerstones of Content Marketing. Aside from generating most of your traffic visits, they will also build your brand awareness and boost engagement.
According to Google, MOZ and other giants in the SEO industry, the most elaborate and latest blog posts perform best. At Prolanz Digital Marketing Agency, we publish lengthy blog posts multiple times a week.
The average blog post length is between 1,500 – 2,500 words. Our content marketing agency creates an average of 3,000 words.
2. Infographics
There are instances when clients have complex ideas that their business wants to deliver to customers. These ideas however may be too hard to explain using only a blog post.
By making use of written text and visuals, ideas will be easily presented at a glance. That's where infographics come in. They have bullet points, numbers and visual elements as opposed to the long-form content of blog posts.
At Prolanz Digitals, our content marketing service includes the design and distribution of infographics in a visually appealing way. Your brand can show complex ideas to customers without using too many words.
3. Videos
While blog posts and infographics are great for informational purposes, videos engage the audience within the shortest possible time.
According to research by HubSpot, 54% of audiences prefer video content from businesses they love. The reason for this is not so hard to see, as video content incorporates visuals, audio and motion graphics.
Our content marketing firm in Nigeria has all the skills and resources to create high-quality video content for your brand, business, company or organization. Videos are hard to produce, but they generate great results.
4. Case Studies
A case study shares stories of how its expertise has already been used to help other businesses. This content form is a very important one, and it can be used to convince potential customers to make a purchase.
Our content marketing agency in Lagos has created countless case studies for clients that helped portray them as experts in their industry. We can do the same for you.
5. Testimonials and Customer Reviews
Testimonials and customer reviews are the content generated straight from your audience. They give highlights of why your business stands out.
We can help you get reviews from your past and existing customers and showcase them on several distribution channels. That's a very affordable way to generate content without doing all the work.
6. Whatever Content Your Business Needs
If you really want your business to get ahead of its competitors, you should explore whatever content format that is suitable for its growth.
At Prolanz Digital Marketing Agency, we create and experiment with numerous forms of content until we arrive at the most-performing ones suitable for your brand.
We create podcasts, emails, visual content, eBooks, lead magnets, whitepapers, Slideshare presentations, carousel posts, webinars, social media posts and many more.
Why Us? What Makes Prolanz Digital Marketing Agency the Best Content Marketing Agency in Nigeria?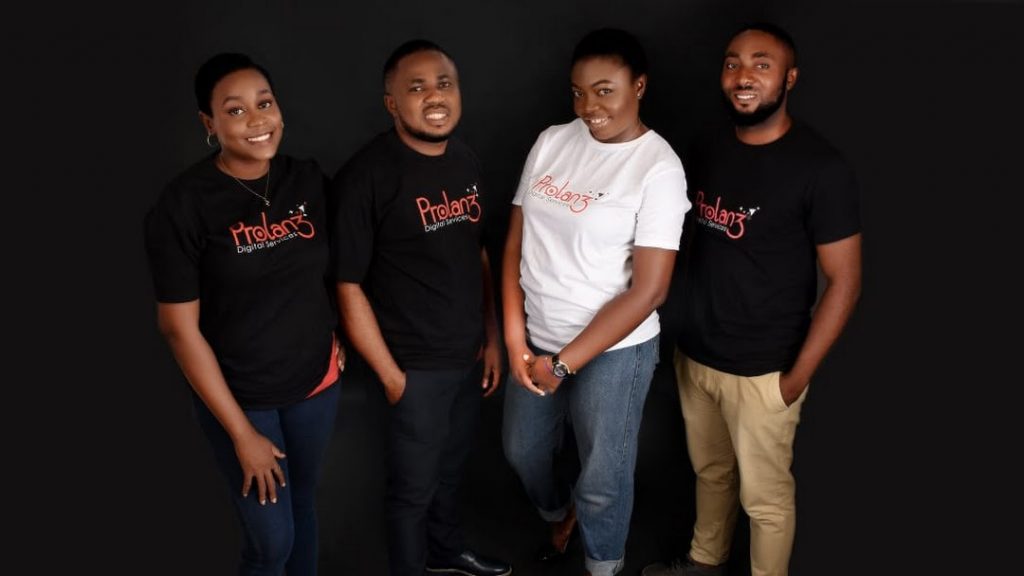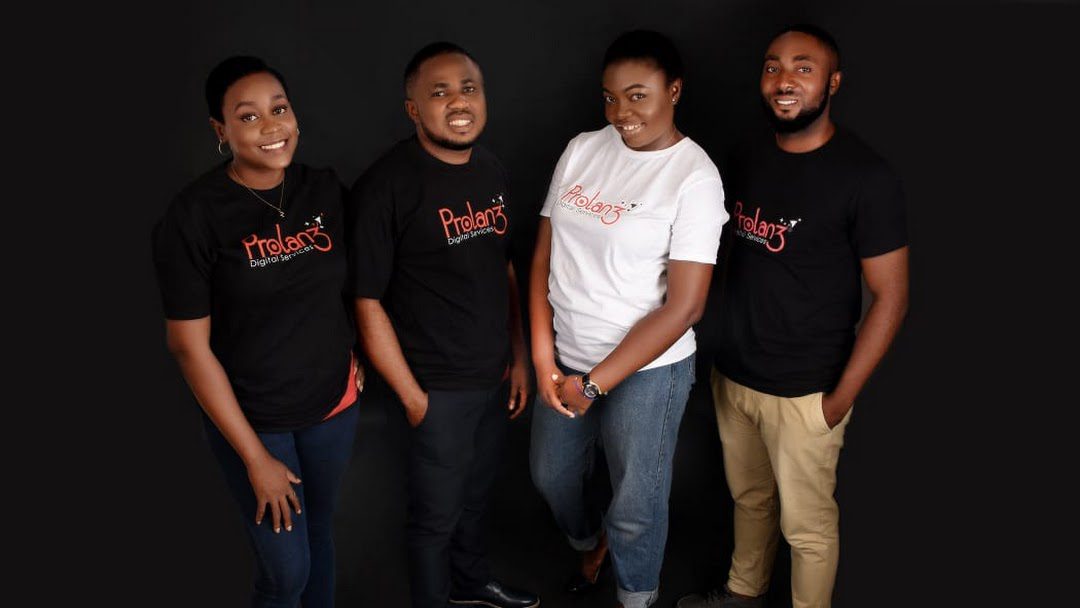 1. We Create Content Marketing Strategies That Drive Real Results
At Prolanz Digital Marketing Agency, we don't just produce content. We create content marketing plans and strategies that drive real results.
This is done by executing a series of activities, including but not limited to content audit, competitor analysis and keyword research.
2. Prolanz Digitals Create Multiple High-quality Content
One of the benefits of working with Prolanz Content Marketing Agency is that we have the team needed to create multiple contents. We can create any form of written, visual or audio content within the shortest possible time.
3. We Provide Personalized Content Marketing Services
When you let us handle your content marketing, you will be assigned to an account manager and content team. The makeup of that team will depend on the forms of content needed for your business growth.
Your assigned Account Manager will ensure you're always kept in the loop. He/she will communicate with you at intervals, through emails, phone calls and direct messages.
4. We Provide Safe Content Marketing Services
Unlike many other agencies that follow practices that land clients in trouble, Prolanz Digital Marketing Agency is very safe. We follow the laid down guidelines outlined by Google and other platforms.
Our content marketing services include recommendations that help our clients understand the best content type, target audience and appropriate channels for each strategy.
5. We are All-In-One
Prolanz Digital Marketing Agency provides all-encompassing content marketing services. This means we're your one-stop for all types of content your business needs to thrive.
When you partner with us, you won't have to hire freelancers, independent contractors or even other agencies before you can get the job done.
Prolanz Content Marketing Firm has all the skills and services you need. All you need to do is inform us and we'll prepare everything you need within a twinkling of an eye.
Grow Your Business With Our Content Marketing Agency in Nigeria
For more than 8 years now, Prolanz Digital Marketing Agency has been a leading content marketing agency for brands and businesses in Nigeria and beyond.
If you're still looking for a content marketing agency that drives real results, consider Prolanz Digitals. Our team is composed of digital marketing professionals that are experts in all content marketing services.
Once you give us a go-ahead, we'll create a custom content marketing strategy for your business and start creating various types of high-quality content.
Are you ready to start your content marketing campaign?
If yes, Click on the button below to reach out to us right away
We've driven over​ 2,137,349 Leads for clients through digital marketing​
Let's discuss how we can help your organisation get ahead…
Or talk to an expert right now!