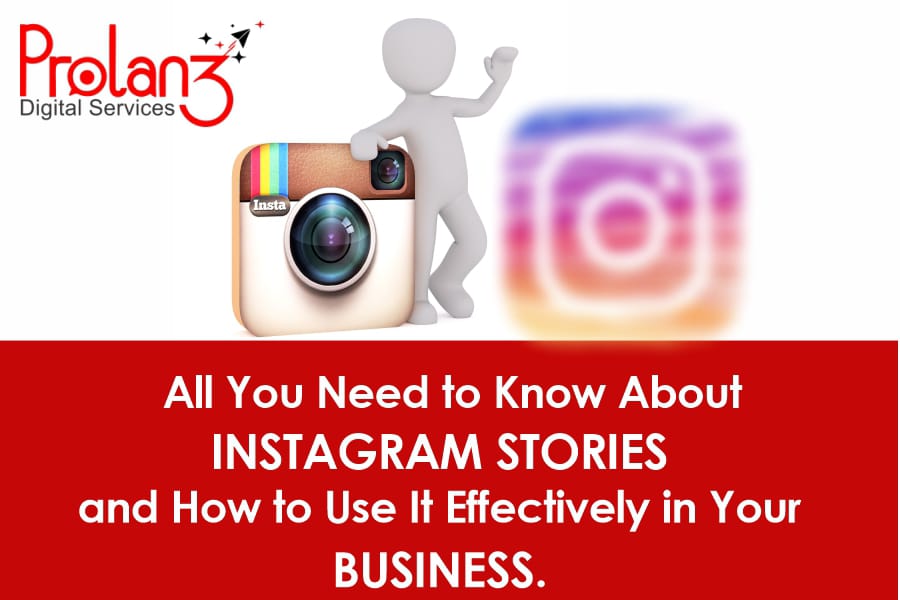 Instagram has over 500 million users. Instagram story is a very good way to reach your potential customers and create a strong connection with your existing customers.
First launched in August 2016, Instagram stories have grown a lot on the platform. Instagram stories have also reduced the number of feed posts published by brands and influencers.
Growing over the years, Instagram stories have adapted a lot of features that help in boosting conversation, communicating your brand getting feedback with more engagement.
If you are not using Instagram stories for your business yet, you're missing a whole lot.
Instagram stories show at the top of your feed in a bar. When there is something new to see, you'll see it in a colorful ring round it.
You want to view someone's story? Just tap on their profile photo and their story will appear. It will show you all the stories they've posted in the last 24 hours. In Instagram stories, no public likes or comments.
Instagram stories generally provide a better, and less stressful user experience. You can use Instagram stories to achieve your conversion goals in your business.
How do I post on Instagram stories?
To create your own story on Instagram, all you have to do is to tap the camera Icon at the top left-hand corner of the screen. Or, you can reveal the camera by simply swiping left.
Then, you can take a photo or record a video once the story camera is open. You can decorate your story using different features.
How do I select a media format?
You can choose between a regular photo or video, boomerang (GIF), Rewind (your video in reverse), and Hands Free (which automatically takes a 15 second video without you having to hold down the record button).
How do I add filters?
You swipe left to advance through a series of filters that can be applied to your photo or video clip. So Easy.
How do I add an image or video from my camera roll to my story?
you can do this in two ways.
You will see a small icon on the bottom left of the screen next to the flash icon. This will have a thumbnail of the latest media in your camera roll. Click this to see your photos and videos from the last 24 hours.
The second way is to swipe your screen down. You can't post anything that has been taken more than a day ago
How about stickers?
You get to stickers by clicking on the square happy face icon on the top right corner of your screen. There are lots of stickers here; geotags, selfie stickers and so on
My sticker is too big. How do I change the size of my sticker?
you can increase and decrease their size by pinching or expanding it with two fingers.
How do I pin a sticker or text to a moving part of my video?
Place your text or sticker in the desired location and tap and hold the screen until you get a little bar at the bottom that says "pin". Find the place in the video you want to pin it to and then hit "pin" when you're ready.
Alright. How do I add a hashtag?
You can click on the stickers icon and hit "hashtag" and add it that way. You can also just type in a hashtag using the text icon.
There's a pen! How do I use it?
You can swipe left to reveal an array of preselected colors or you can pick any color, hold your finger down. you'll see an entire palette of colors to pick from.
How to change the pen size and style?
There are four different options for pen styles at the top of the screen with one eraser. They each provide their own style and the eraser tool is a relatively new addition so you can easily erase any mistakes.
To add colour overlay, after making your video/image, select any pen, pick a colour and tap and hold the main part of the screen. Lift your finger and the screen will become that colour. you can use the eraser tool to selectively reveal certain parts of your original image or video
To add text, click on the "Aa" icon and write. You can also change the style. There are three options: one with a slight faded color in the back, one solid color background, and with no background.
How to have text with multiple colors and sizes: Highlight the individual word in the text to change the color of it.
How do I tag people?
click on the text icon and type "@" followed by the handle
To delete a sticker or text, you just have to drag and drop. Drag the item you want to delete to the bottom Centre of the screen and drop it
How do I add music to my video?
You can play music from your device from whichever streaming service you prefer. You play, go back to stories, and simply record.
Now that you know all about Instagram stories, How can you use it effectively in your business? I'll tell you.
Instagram Stories have tons of easy-to-use features that encourage audience engagement — from one click polls to instant emoji slider stickers.
Decorating your stories with features each week can be great for driving more audience interactions, which in turn can work wonders for boosting your overall ranking with the Instagram algorithm.
Let me show you some boosting features
1. poll stickers: This is one of the quickest and easiest way to get your followers involved. It helps in instant engagement. Polls are a fantastic way to drive more audience interactions, and often the most simple ones work best. Businesses share polls to ask their audience what they prefer.
2. Emoji slider stickers
This is mostly used by skincare brands. It is used to allow their audience to indicate what skin type they have, or used by brands to ask what type of content they want to see next.
3. Questions sticker
It helps in knowing your audience more, what they want and what they are expecting.
4. quiz stickers
this is a quick and fun way to encourage more clicks from your audience. They also help to communicate your brand story, or details about a new product launch in a funny and light way.
5. chat stickers
This is a great tool for setting up a quick chat forum with up to 32 participants.
Due to the limited number of participants, this can be a great tool for testing out new product ideas or marketing concepts with an engaged focus group.
6. Go live on Instagram
it creates quick engagement and is a great strategy.
How do I drive more sales from Instagram stories to my business?
1. Use product stickers.
The sticker gives you the opportunity you to tag specific products in stories.
This simple sticker is one of the easiest ways to drive conversions straight from your Instagram Stories
2. Links
You can only add links if you have over 10k followers.
If you're yet to unlock the "swipe up" link, an effective tactic is to encourage your stories viewers to click your link in bio.
3. countdown stickers
It helps to create hype for an upcoming product, event or release. this sticker can be more effective if you encouraging followers to tap the sticker and set a reminder for when the countdown ends.
4. use Instagram stories Ads
Instagram Stories ads are the perfect way to showcase your brand, business, and products to an already engaged audience. It is paid though.
How do I get more views on Instagram Stories?
1. Add hashtag and location tag
2. post consistently
3. post quality contents.
How to Plan and Schedule Instagram Stories for Business
1. drag and drop your stories in the story board tool.
2. rearrange them to fit the order you want
3. add links or captions
4. Schedule your Instagram Stories by selecting the time and date from the drop down menu beside the Save Story button.
Get ready to take your business to another level with Instagram story!!!
To manage your Social media pages
Don't forget to contact us.