What's the first thing that comes into your mind when you hear "social media"? Facebook, Instagram and Twitter, right? Well, they're just a few examples of some types of social media.
Social media has many types of networks. It's a well-known fact that we all engage in various activities. People have different interests, and what interests a particular person may sound boring to another.
Once you learn about all the popular types of social media, you can start creating marketing campaigns that are more specific, relevant and meaningful.
#1. Social Media Networks
Examples include Facebook, Twitter, LinkedIn and lots more.
A social networking site helps users to connect with each other. It also provides many ways for different brands to attract their target audience and potential customers.
These types of social media allow their users to share their thoughts, create content and post photos as well as videos. They can also form groups based on their interests and location and participate in group discussions.
A social networking site is built around the user. Their newsfeed and timeline are all about everything important to them and their social circles.
Social media networking sites also help business owners to measure their return on investment on social media campaigns. This helps them to know what's working and what's not, thereby contributing to the building of an effective marketing strategy.
Almost everyone is familiar with social networking sites. These types of social media include Facebook, Twitter, LinkedIn and lots more. They help users to connect with friends, family, brands and potential buyers.
Social media networks are one of the most important creations of mankind. They encourage the sharing and learning of knowledge. These types of social media also Improve human-to-human interaction.
How Social Networking Sites Can Benefit You as a Business Owner?
Here are 3 major ways in which social media networks can be very beneficial to your business.
1. Reach Your Target Audience and Potential Buyers (Through Ads)
These types of social media create and grow very large and diverse communities. As a business owner, manager or business developer, you can seek consent from the social networking site, with the aim of interacting with the users using certain targeting metrics.
For example, if you want to reach a target audience that is composed of young users, you can run ads on Snapchat and TikTok. On the other hand, if most of your prospective customers are working-class professionals, LinkedIn would be the most suitable social media network.
Generally, social networking sites are very rich in data. Due to that, brands, businesses and companies can reach a lot of their audience while spending as little as possible out of their social media marketing budget.
2. Network
Being a business, you can gather, grow and engage your followers. These types of social media help in locating users that are most likely to be interested in what your business deals in.
Social media networking sites also let you find customers and potential business partners via hashtags and groups. Once you locate them, you can view their profiles and build connections.
3. Research
Social networking platforms are one of the best places on the internet where you can carry out research and surveys on customer behaviour.
You can make use of many social listening tools to track specific conversations. This has helped many brands, businesses and companies to understand and serve their customers better.
#2. Video Hosting Sites
Examples include YouTube, Vimeo and lots more.
Video hosting sites allow individual filmmakers, journalists and other content creators to upload videos on the platform. From there, their audience can stream and download the videos quickly and easily.
Brands, businesses and companies can also use paid ads to reach potential customers on these types of social media. They can contact influencers and pay them to use and talk about their products. They can also create their own video content as well.
Popular examples of video hosting platforms include YouTube and Vimeo.
YouTube has changed the way people create, post and think about videos. It has also made the video content very accessible to all.
Video hosting platforms help video creators to create their content and share it. Platforms like Vimeo and YouTube are optimized for streaming, making them a very good place to run video ads.
How Video Hosting Sites Are Beneficial To Your Business?
1. Share Phenomenal Content
Video hosting sites like YouTube, TikTok, Snapchat, Vimeo and Instagram allow businesses to create and share videos.
You can use these types of social media to build communities while getting your content out there.
2. Engage
Most video hosting platforms like YouTube have a comments section. From there, you can get to know the people watching your content.
#3. Image Sharing Sites
Examples include Instagram, Imgur, Flickr and Snapchat.
These types of social media offer people a medium to create and share image content. Users can start conversations and show off their creativity. Brands and businesses can make their products look more beautiful and enticing.
This will go a long way to encourage their target audience to talk about their brand.
Image sharing platforms include Instagram, Imgur, Flickr, Snapchat and many more. They are all structured in a way that makes it easy to create, post and share images.
On these types of social media, users can curate, and share relevant images that will ignite discussions, arguments and conversations. On these platforms, a picture can have the power of many words.
And this will be very beneficial to your business.
The reason is this. Generally, visual items like images, infographics, and illustrations capture the human eye, heart and imagination. Especially if the visual content is colourful.
How Image Sharing Sites Can Benefit You as a Business Owner?
1. Encourage User-generated Content
In this case, your target audience will be the ones to create images. However, you're the one that would earn most of the benefits.
You can run campaigns that will prompt some users to take and share a picture with your product. This would be made possible by creating a unique hashtag for your brand.
2. Create Inspiration
Your content can have adverse effects on your target audience. It can bring back old memories, trigger certain feelings or even be an inspiration. For instance, you can share a story of how you brought up your brand from nothing to something.
You can also share a very annoying experience you once had, an experience that other people can relate to. By creating, curating, and sharing your images, you can inspire and engage other users on the platform. This can create bonds and strengthen your relationship.
#4. Discussion Sites
Examples include Reddit, Digg, Quora and Clubhouse.
Discussion sites are social media platforms that enable users to ask and answer each other's questions. It's also a place to share ideas, news and updates.
Whenever a user answers a question, the answer can get likes, reactions and upvotes. Answering a question correctly and honestly can increase the credibility of such users on the discussion site.
This credibility and respect could benefit your business. Being a brand, it can cause an increase in traffic visits to your website. You can also use discussion sites for your industry market research.
This can be done by asking people what they think of your business products and services. By applying this simple strategy, you can create more specific marketing campaigns.
Although hot conversations happen on other social networking sites like Twitter and Facebook, discussion sites like Reddit and Quora are more adapted and best suited for such.
Unlike Facebook, Twitter, Instagram and other social media networks, users of discussion sites don't usually have to give out much information about themselves. As a result, users of these platforms have more freedom.
Anyone is free to ask a question or make a statement. This tends to attract more people with shared interests.
How Discussion Sites Can Benefit You as a Business Owner?
1. Research
These types of social media are composed of many sub-communities.
By putting in some research, you can find and engage other people in your industry. You can discover what they're asking and are interested in the most. This small discovery can pave the way for a more advanced content marketing strategy.
2. Answer questions
Discussion sites like Reddit and Quora have a lot of questions asked by users. By answering them, you can increase your credibility and build a reputation for yourself, or your business.
Eventually, you will get more traffic visits to your website by hooking users and prompting them to read more on your site.
#5. Blogging and Publishing Networks (Community Blogs)
Popular examples include Medium, WordPress, Tumblr and many more.
These types of social media networks give users a place to publish their thoughts. It can be regarding their professional career, trending activities, hobbies and many more.
The main aim of these community sites is to let users have their own blog without having to host it on their own. Beneficiaries of these community blogs can attract new readers by attracting other users to search the platform for interesting content.
As a brand or business, you can write and publish content on how to use your product or services in creative ways. You can also post news and updates about your industry in order to drive more traffic to your account.
Now, you may be thinking why people create blogs on these types of social media when they could've their own. Well, it's not so hard to see.
Sometimes an image or post may not be lengthy or solid enough for the message people want to share. Also, not everyone on the internet has the time to create and manage a blog from a self-hosted website.
Community Blogs, also known as "publishing and sharing networks" or "Shared blogging platforms", offer people a chance to express their thoughts. When they become a user and create a simple blog on the platform, they will help to connect them with readers.
Community blog sites like Medium and Tumblr provide their audience with content while also allowing bloggers a few options for customization.
How Blogging and Publishing Networks Are Beneficial To Your Business?
1. Develop Your Brand Voice
Although there are better alternatives for developing your brand voice, community blogs are one of the easiest. You don't need to create a blog for this, since you can host your's on Medium, Tumblr and other publishing and sharing networks.
Once you develop a voice, you can get some readers on the platform and then spread your message.
2. Syndicate Content
The first point above is for brands that don't have a blog yet. If you already have a blog (or a website with a blog page), then you can use community blogs to syndicate content.
In simple words, syndication is the sharing of media content through a syndicate, so that it can be broadcasted and published through many outlets.
If your business already has a blog, you can use community blogs like Tumblr and Medium to share and repost old content. You can also use such platforms to expose your content to a new audience.
#6. Social Review Sites
Examples include TripAdvisor, Yelp, OpenTable and Google My Business (now Google Business Profile).
One of the first things that most people do before planning a trip or buying a new product is look at customers' reviews.
Social review sites host and display customers' reviews of businesses. This gives users a clear view of the type of services and products offered by a particular business. The overall satisfaction rate is shown as well.
As a brand, business or company, customer reviews can help your business strategy by letting you spot common problems that many customers have experienced in the course of patronizing you. Once you know them, you can work more to improve their experiences over time.
When you promote positive reviews and work on negative ones, you will be making your business more popular. This as well will come with an extra benefit; increased brand awareness.
These types of social media also display reviews from users for various locations and industries. With that alone, you won't have to guess or risk your experience while hoping for the possible best.
Instead, you can look up that hotel or restaurant on Yelp or TripAdvisor. Check out the reviews and see what their past customers are saying about them.
How Social Review Sites Are Beneficial To Your Business?
1. Understand the Customer's Perspective
Although bad reviews can deface the reputation and lower the credibility of your business, they can be sometimes beneficial (in the long run).
For instance, a bad review from a customer that bought a small quantity of your product will let you know about his/her experience from his/her point of view. Now once you know the problem and address it, you can stop such from happening again when another customer wants to buy a larger quantity.
A bad review can be used to identify what's working and find out the areas that need to be worked on.
2. Solve Problems
A customer review is a way to engage with them and solve potential challenges. That way, they can be addressed and they become a bigger deal.
#7. Bookmarking Networks
Popular examples of these types of social media included Feedly, Flipboard, Pocket, StumbleUpon and Pinterest.
Bookmarking networks are platforms where users are allowed to save many ideas, articles, posts and other content for storage or future use. People can also use it to share links to lists of online resources.
The main aim of these websites is to let their users track and discover new content. These new content are fetched based on shared interests.
As a business owner, you can use networks like these to direct people to your website and engage with them. You can share your content to bookmark.
#8. Sharing Economy Networks
Popular examples are Rover, AirBnB, Lending Club, Couchsurfing, Eatwith and many more.
These types of social media sites give their users access to resources by prompting them to share goods and services.
For instance, a sharing economy site that specializes in domestic pets can help a user find someone that can look after their dog while they travel for career reasons or on vacation.
If your brand, business or company deals in the sales of pet toys or food, you can show ads to users of such platforms. You can convert potential buyers to actual customers through advertising.
#9. Social Shopping Networks
Popular examples are Instagram, Poshmark, Etsy and lots more.
These types of social media help users to follow trends, share their discoveries, make purchases and follow favourite brands. Social shopping networks focus on e-commerce. They may sound boring, but they're not.
Contrary to what most people think, they're very engaging and entertaining.
Being a brand, business or a company, social shopping sites are a good idea. Through these sites, you can increase your brand awareness. You can tell other users about your brand and sell to a wider audience.
The Bottom Line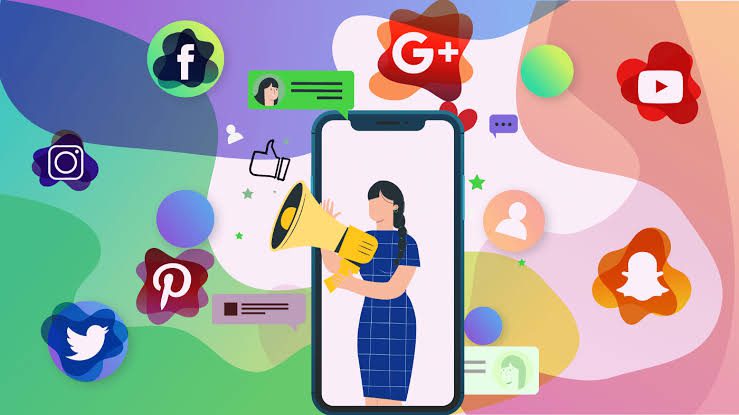 Social media has many types and flavours. You can use any of them to promote your business one way or another.
Knowing your main goal is another element that you can use to determine your choice. Be creative, and open your mind to new ideas. Who knows, maybe that's what will skyrocket your business to a greater height.
In case you have any questions or difficulty in choosing social media for your business, you can contact us at Prolanz Digital Marketing Agency. We're the best digital marketing and social media marketing agency in Lagos, Nigeria.