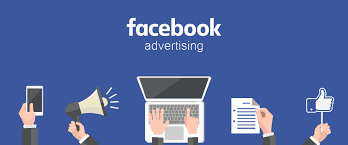 Facebook is the best social media platform to run ads and it's not surprising. With over 2 billion active users, it is the go-to platform for business owners to advertise their products or services. Advertising on social media has a variety of benefits but Facebook stands out among the rest. However, the process of advertising on Facebook in Nigeria can be challenging due to bank policies and restrictions. This post is going to show you how to run Facebook ads in Nigeria.
Cost of Advertising on Facebook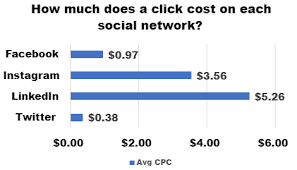 Before we begin, it is important that you have an idea of advert rates on Facebook. Although, these rates are dependent on some factors such as your industry/niche, target audience, budget and others. Different online sources report varied number which is unreliable and not ideal. These can only be used as a guide. As such, there is no specific charge or cost of running Facebook ads, only estimates.
According to Wordstream, the average Facebook cost per click (CPC) across industries and across campaign objectives in 2021 is $0.97 (₦398).
Advertising on Facebook is auction based, meaning that you get to bargain the price, spend less and optimize your ad cost.
Here is an outline of the steps leading up to the Facebook ad auction:
First, you log into Facebook Ad Manager to create a campaign and ad
Choose your daily budget (or the maximum to be spent everyday)
Select what action you'll pay for, like views or clicks
Build your audience using demographic, interest, and device targeting
Add their creatives, like ad copy, images, and video
Approve and launch your ad
Once there's a chance of showing an ad, the Facebook ad auction happens:
You can tell which metrics matter most to your ads and their costs based on the ad auction:
Ad bid
Estimated action rate
Ad quality
Ad relevance
If you can optimize these metrics, you can lower how much your Facebook ads costs.
Steps on How to Create Paid Ads on Facebook
Facebook has a free ads option but this option barely has any benefits to offer your business. Nothing business oriented comes totally free. That being said, the best way to go when placing Facebook ads is to opt for the paid ads. This enables you to reach your target audience with a better chance of making sales.
There are 3 types of Facebook ads namely; campaigns, ad sets and ads. Campaigns contain all the information about your ads. A campaign can have several ads within it and can also be a single ad depending on your choice. An ad set on the other hand is a group of related ads that are geared towards the same objective for a campaign. Ads refer to a specific ad and all the ad creatives in it such as images and texts.
It is always best to create your Facebook ads with a Facebook Page instead of a personal account for better results. Now, let's get into the steps;
Choose a campaign objective; Once you are logged into your Facebook account, go to the right-hand-side beside the notification bar and click on create Ad or Ads Manager. This will lead you to the page where you get to choose an objective for your campaign. These objectives include brand awareness, reach, traffic, engagement, leads generation, conversions among others. For example, if you need traffic to your new website or blog, selecting the traffic option will be the right objective for you.
Select Your Audience; This is the part where you get to select your target audience. You need to target the right demographics in order for your ad to be relevant to them. Otherwise, your ad is as good as nothing. Here, Facebook gives you the option of choosing their demographics, location, age, likes and interests that best represents your intended audience.
Set Your Budget; Facebook gives you the option of setting either a daily or lifetime budget for running your ads on their platform. A daily budget allows Facebook to run your ad all day and also pace your daily spend. A lifetime budget gives you the option of placing your ad on a particular period of time while your spending will be paced on the specific length chosen.
Create your Ad; This is the part where you get creative with your ad to determine what it will look like. Here, you arrange your images and texts to fit into Facebook's specifications before your ad gets published.
Payment Method; After following the aforementioned steps, you are to proceed to the part where you need to make payments. Typically, you will be charged in dollars for your business account through your MasterCard or PayPal account.
You May Also Want to Read This; How to Spy on Your Competitor's Facebook and Instagram Ads in 2021
How to Make Payment for Facebook Ads in Nigeria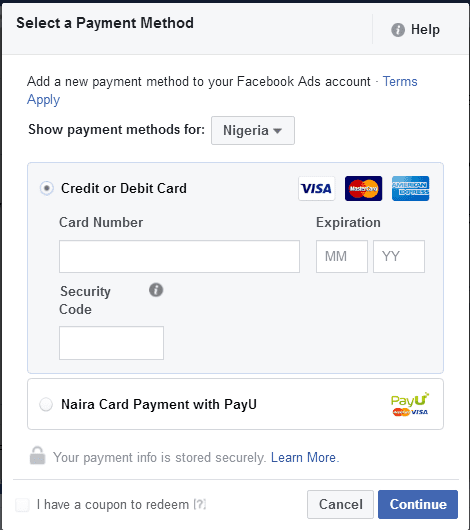 Not all banks in Nigeria allow dollar payments with their MasterCard so you might want to change to naira on the billing setting on your ad manager. Making payments for Facebook ads has proven to be very challenging to many business owners to run Facebook ads in Nigeria. It is important to note that for easier Facebook ads payment in Nigeria, PayU might be the best choice for you.
First, you'd have to change your Facebook ads currency from dollars to naira then follow these steps;
Go to your ads manager payment methods page and click on "Add money".
Select "Naira Payment with MasterCard and Visa- PayU."
Input the amount you desire to add to your Facebook ads account and click "Review Payment".
Click the "Make Payment" option.
You will then see the PayU page interface, click "continue".
After following the steps above, you will be redirected to a page where you are to enter your MasterCard or Visa card details. Input the card details and click "Pay" then select the method you want to receive your OTP. Alternatively, you can use the hard token option if you have one.
Click the option to confirm that you accept the terms and conditions and click "Submit". Enter the OTP and submit. If successful, you get a prompt "Success" showing the amount you have added and the new balance.
Facebook ads still remain the top choice for business owners across the world to advertise their business. Using the method in this post will guarantee your peace of mind when you need to run Facebook ads in Nigeria.