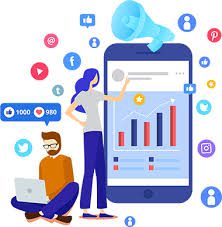 Social media marketing is one of the most popular form of digital marketing. As such, there are many social media marketing agencies in Nigeria. Professional agencies like Prolanz Digitals employ the right strategies and tools which we will examine in this blog post. First, we need to understand what this marketing concept is.
What is Social Media Marketing?

There are approximately 3.7 billion social media users in the world. This makes social media the best place to market and sell your products and services.
Social media marketing is the use of content such as text, images or videos to promote your products and services on social media platforms. This has proven to be a cost-effective method for creating brand awareness and visibility for your business on the internet.
Social media platforms like Facebook, Twitter and Instagram are designed in a way that makes it possible to advertise your business for free but it usually comes with limited opportunities. To enjoy the actual benefits of social media marketing, social media marketing agencies need to use the appropriate tools.
Tools for Social Media Marketing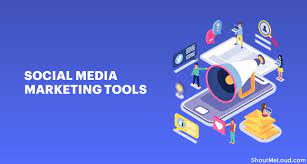 Your tools are a huge determinant of the success of your social media strategy. The essence of all tools despite their level and category of functionality is to save time.
A good social media marketing agency knows that using multiple tools at once is mainly a waste of time. Most tools come with a variety of features that can be categorized as follows;
Publishing and Scheduling: Such tools help you visualize your monthly calendar, automate posting, or customize across channels in the same window.
Unified Social Inbox: Are you able to engage with your audience in real time across social channels with these tools?
Competitor Analysis: Tools in this category enable you track and compare your competitive advantage with social analytics and reporting.
Social Monitoring: You can monitor your brand's reputation and listen to your audience by monitoring keywords and competitors with such tools.
Custom Reporting: Tools in this category allow you to build custom reports for your clients major social accounts.
Campaign Tracking: You should be able to track your ads, posts, and website to optimize and pivot your marketing strategy. Also, can you target audiences with these tools?
List of Social Media Marketing Tools
Buffer; This allows you to connect multiple social accounts to schedule at different dates and times. Different social media platforms have different optimum times for engagement. With Buffer, you can capitalize on this and post at peak hours. Some of the functionality of the app includes a browser plugin to make things simpler. Buffer also comes with a number of integrations to other social tools which can be combined for more benefits.
Quuu; This is a great social tool designed to ease your stress by automatically curating handpicked content for you and your business. When you sign up for a Quuu account, you are asked to pick from several different categories that align with your niche. Quuu then sends you relevant, high-quality content from these categories each day, which you can easily use to create and schedule posts.
MobileMonkey; This is a very valuable tool, specifically if Facebook is the primary social platform for your target audience. MobileMonkey allows you to build customizable chatbots for Facebook Messenger, which automatically respond to your prospects or customers. It also offers features like Chat Blaster – where you can send a "bulk chat" to all of your Messenger contacts, Drip Campaigns within Messenger, Facebook Messenger Ads, and Auto-Response to Facebook Comments. Some of the features you add to your conversation include; text, images, video, attachments and PDFs, GIFs, Email notifications, navigation elements, questions and forms. Once you have your chatbot created, you can then set up different campaigns.
Social Inbox; Keeping up with all your social engagements, traffic, conversations, mentions, comments, and messages is downright overwhelming. Social Inbox allows you to connect all of your social media inboxes into an easy to monitor dashboard. This allows you to easily keep up and respond to all your interactions – satisfying your consumer's need for an immediate response. The tool automatically filters through your interactions and keeps you up-to-date with alerts when responses are needed. Social Inbox will also help you keep track of how many leads and customers you are acquiring through your social media efforts. This makes it a valuable tool for measuring the overall ROI of your strategy.
Unsplash; This website offers a massive library of clean, polished and professional photos for free. Using this site is one Google search away. You don't even have to create an account to download photos. But if you do create an account, you can follow certain creators who match your brand and create your own collection for photos to use in the future. Once you've found a photo you like, downloading is as simple. Just choose your image size, quality and then proceed to download.
Adobe Lightroom; A good photo editing tool is necessary for social campaigns, but finding one that's easy to use can be a struggle. Adobe Lightroom is perfect for the not-so-design-savvy marketer. Lightroom is organized into several different modules, which helps to keep your workflows organized. This tool can be used across desktop and mobile – making it easy to edit your photos for social media, even if you're out in the field.
Canva; This social media tool makes designing eye-catching graphics as easy as dragging and dropping into a ready-made template. Canva features an intuitive graphics builder that allows you to pick from a massive library of over two million templates. You can then use the builder to customize your graphic to fit your brand and messaging. The free version will give you nice designs, but if you want premium designs – you might want to invest in the paid monthly plan.
Strategies for Social Media Marketing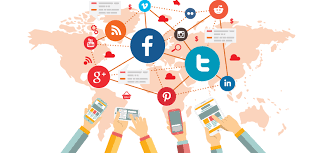 Social media is very competitive by nature as everyone is grappling for attention and visibility. As a result, a brand's success relies largely on a social media strategy.
Let's examine a few strategies that can put you ahead as a social media marketer;
Set realistic goals for your business; It is highly recommended that you tackle smaller objectives and then work your way up as you progress. Goals such as these enable you to scale your social media efforts in a way that is both affordable and reasonable. Examples of these goals are; increasing brand awareness, generating leads and sales, boosting community engagement, driving traffic to your site and growing your brand's audience.
Research your target audience; You need social data as a marketer to better understand your target audience. This will boost your overall strategy as you know exactly where your target audience is and where to focus on. Always keep in mind that different platforms attract different audiences. For example, majority of Pinterest users are women. If you were to run a campaign on the social media platform, this informs you on how best to implement your strategy to gain their attention.
Create engaging content; Ideally, this should have been first on the list because your social media strategy rests a whole lot on your content. Your content must align with your business' goals and brand identity. This means that your hashtags, themes and pictures must communicate your brand's message clearly to your audience.
Post on time and strategically; Knowing what time each social media platform peaks will push your strategy one step further as it will be easier to capture the attention of your intending audience. Timeliness is not to be played with in your social media marketing strategy.
Establish your metrics and KPIs; Your social media strategy must be data-driven if you aim for success. Metrics such as post reach, clicks, views, engagement, likes are important when measuring the strength of your strategy.
Social Media Marketing Proposal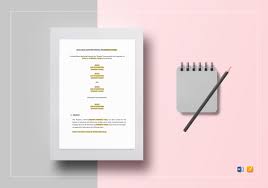 Having a social media marketing proposal as a social media marketing agency shows your level of professionalism and efficiency. A social media proposal is a document that outlines how your skills and subject matter knowledge will benefit prospective clients. It formalizes your ideas to your client.
Your proposal must contain the following;
Analysis
Scope of work
Project Milestones and Deadlines
Proof of work
Terms of agreement
The more detailed and tailored you can make your proposal for each prospective client, the higher the chance of closing your next deal.
You may also be interested in; Social Media Management Plans and Pricing
Did you come across this post looking for an agency to manage your social presence instead of looking for agency tips? If you are looking for a social media marketing agency to help with your social media marketing efforts, click here to get started.