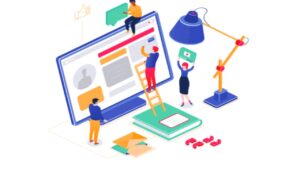 If you fail to plan, you plan to fail! This is entirely the case when it comes to social media management. As a result of this, you need a social media management plan…
It's a fact well known to all that the growth of social media is on a constant rise. A well organized social media plan will serve as a directive on how to properly manage your content across all social media platforms.
What Is A Social Media Plan? – Prolanz Digital Services
It is a fact well known to all that social media is beyond posting of content. Having a successful business on social media requires putting plans in place.
A social media plan or strategy is simply a summary of everything you hope to accomplish on your social media pages. It also features the time frame and ways with which you want to accomplish the said goals.
A well-thought-out plan for your business's social media sets out specific goals and timelines that can be followed through. This ensures that your performance is in check and your goals achievable.
Once your social media platforms perform accordingly, brand awareness, visibility, social proof and sales continue to grow.
So you now know what a social media plan is. Continue reading to know more about its contents.
What Should Be Included In A Social Media Plan?
A social media plan must be specific and detailed. Each social media platform should have its unique approaches that eventually lead to the same goal.
However, there are still some general things that every social media plan should have, regardless of the nature of the business.
Let's check out these 10 features to make sure we have a successful social media plan.
Social Media Goals and Objectives
One of the most crucial parts of a successful social media plan. Your goal and objectives are what matters since they are what will be yours if you are to succeed.
However, as simple as this might seem, it requires great planning and the wise making of decisions.
This is because your returns on investment may not be as clear and definite as Pay Per Click advertisement. This is why you may need to start from small goals before moving on to bigger ones.
Another tip that may help your social media plan is to keep it simple. You can have separate goals for different aspects of your plan. Engagement, brand awareness, sales leads and SEO can have separate goals and objectives.
Set out your objectives and define your starting point. A good plan must have a solid start to set the ball rolling. A content calendar is a good place to start.
Content Calendar
If there is no content, then there will be nothing to call social media. Funny? Well, it may be.
If your business has no content marketing strategy, then your social media marketing strategy is suffering or does not even exist at all. In social media management planning, content is one of the important things to consider. And to do that, you need a content calendar.
Beginning with the most simple details, your content calendar should have sections for the Author, publish date and title.
You may also add the target audience, the type of content and focus areas of your topic.
Baseline Metrics
It's very vital to have a baseline, at least for the sake of your social media plan and its success. Let's assume that most of your page fans interact less on Instagram but are very much active on Facebook. What you should do here is create a baseline.
This is because the poor performance will set a reason for the improvement in the latter days to come.
You can make use of a spreadsheet to keep track of your social media metrics. However, you should make use of better reporting and analytics tools if you have some at your disposal.
Competitor Benchmarks
It's never adequate to judge your success only by your social media strategy and its performance. You should also compare with your close competitors.
However, things are not always as they seem. The fact that one of your close competitors has more followers and engagement than you doesn't mean they are better.
Sometimes, longevity is the reason behind that, not better ideas or strategies.
Naming Strategy
Although it looks like no one cares, what and how you name your social media stuff is very vital. It's as crucial as the domain you choose for your business website.
This will be easier if your brand or business has a unique name. If it doesn't, then you have to search, brainstorm, build consensus before eventually making your decision.
Staffing Plan
No matter how much knowledge and access you have to tools, you still need to hire professionals if you want your social media to plan to be successful.
And mind you, it's not like a small office where you can just employ a clerk or secretary. Here you need people, not just one person.
Even if your business is a small type, it doesn't change the rules or the social media. The efforts and resources that a big firm would require are not much different from what yours will also require.
Although one employee can write and publish content for you, it still goes without saying that the success of your social media plan depends on a team and not just a single individual.
A good social media plan requires ideas, support and resources streaming from different members of your team.
Partner Integration
We are all humans in the social world. That makes us subject to doubts, guesses and predictions. You should guess what each of your partners or investors would like to do.
And we all know that. It's a very sure conclusion. Everyone wants to expand their reach and engagement on social media. If you do everything the way you should, you will be increasing their social media audience and engagement.
Doing this will bring many benefits at a lesser cost. Any of your partners that benefit from this will want you both to promote each other's content and even link to each other. And that's one of the things that every blogger wishes to have; BACKLINKS.
This can also increase your domain authority and Alexia ranking.
The Ideas!
Don't just do your social media management plan. Get creative with it…
If your plan is only for gaining friends and followers or posting only updates and tweets, then it won't be that special or creative.
If you want to make your social media plan special, you should try social media campaigns. If you already know your target audience and how they bounce, you can create a special campaign to engage them all.
For those that want to stand out from the crowd, a customized social media campaign will be the best choice. This social media campaign can include interesting add-ons, such as content, special offers or sweepstakes.
And that's where Prolanz Digital Services comes into the show. We are the best social media management agency in Nigeria and beyond. Our team of professionals are up to the task, with your social media campaigns being controlled by the best people ever.
Social Media Success Examples
Just so you know, every brand and business aspires to greatness. Who knows, maybe your business is the next big thing in town.
Later in the future, you may wish to sell your plan to other firms. Also, you may want to use it as a tool to secure foreign investors and business partners.
Moreso, some employees (high profile) applying for some sensitive positions like the post of a Manager, Director or Chief Marketer may request to see your social media plan before being employed.
The best way to defend your plan any day at any time is to cite examples of how similar companies and businesses have used a similar social media plan to achieve specific goals and objectives.
Reporting and Analysis
This is the last component that should be present in your social media plan. Now, this begs the question; how will you track your progress and return on investment (ROI)?
You know, it's just like fighting a war. You will ask yourself multiple times as to what to do next if you win. Now, that same scenario applies to your social media strategy plan.
When making your plans, you should know what you want to estimate. Most brands and businesses always want to estimate two things; audience engagement and audience size.
It may get tedious when you compare two social media platforms. As a result of that, it's best left alone. Just find out the social media platforms that are best for your social media plan.
Tips For A Good Social Media Plan – From Prolanz Digital Services
Identify your target market and pick the right communication channels. Knowing whose attention you wish to get helps in also knowing the right ways to communicate with them.
Plan your content according to their needs. Speaking in the language your audience understands makes communication faster and easier.
Choose the appropriate social media management tools to easily manage your profiles across platforms.
Organize your content properly and maximize your reach.
Analyze the results of your plans and constantly optimize your strategy to accommodate new trends and updates.
Social Media Content; Strategy Tips and Template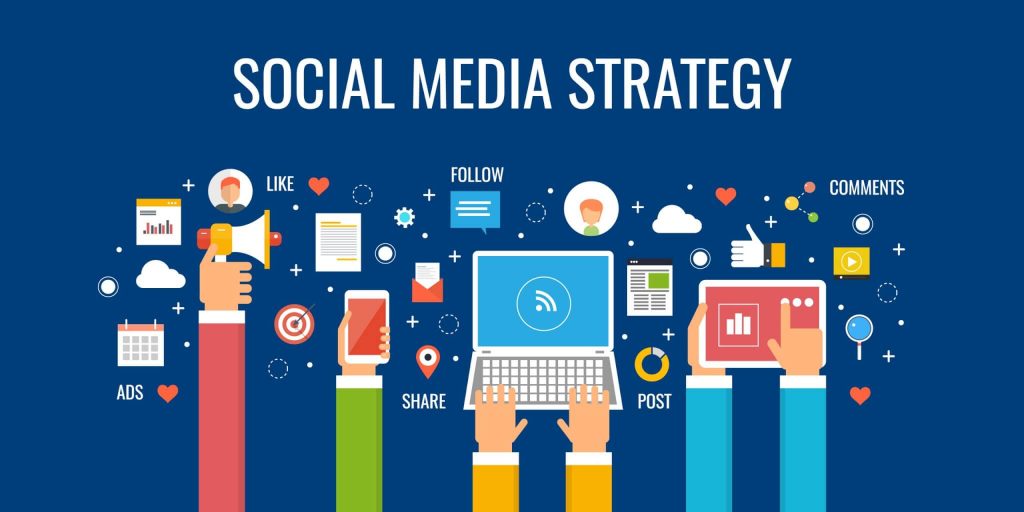 Coming up with social media strategies can be overwhelming at first and for good reasons. You are concerned about not wasting your marketing budget or even about your competitors.
Well, you do not have to panic or worry much about it as there are tons of ways to develop strategies.
A strategy can simply be the manner in which you relate with your potential customers through your images, captions or replies. The ultimate goal of all social media strategies is to make sales but it's a process.
Some good examples of social media strategies include the following.
Utilizing humor
Always remember that your audience are humans who crave a human connection. Making people laugh or smile even endears them to your brand a bit more. How brands came up with memes from Squid Game is a good example of this.
Influencer Marketing
Everybody loves to see a review of a product or service before making a purchase decision. What better way to do this if not through influencers? They have the power to influence the minds of prospective clients given their huge following.
Running Social Media Contests And Giveaways
Bring out the fun side of your business by organizing a social media contest where people get to win prizes. This gives your brand more visibility and awareness.
Sales And Promos
This is the most used strategy on social media and it is not surprising. People love to save money and spend less on products and services. Sales attract more customers if done the right way.
Social Media Content: Strategy Tips and Template
Creating content can be fun and stressful at the same time but a content calendar is there to ease the stress. Remember that your content should be fun, relatable and appealing to your target audience. 
As such, you need to strategize and draft a template for your social media content. This can be done in the following ways:
Ensure that your content is diversified and unique
It will do you well to remember that your audience comprises diverse people so your content has to cut across barriers.
Consistency
Your content needs to be consistent and timely so your audience knows what to expect and when.
Your content should be informative and educative
Your content can still be fun but also informative and educational. Try not to bore your audience.
Call to action
After all has been said, you need to lead your audience to take action on your post with the hopes of getting leads or making sales.
Spy on your close competitors
This is totally allowed as there is nothing new under the sun. Check out your competition and see what they are up to. The aim is not to be a copycat but to learn and do better.
Set realistic goals and track your progress
You can't possibly know what you're doing right or wrong if there are tools in place to track your progress. Also, make sure to set realistic goals in order not to feel overwhelmed or burnt out.
Why Do You Need A Social Media Plan?
The answer to this question is pretty obvious at this point. The importance of social media management plans cannot be overemphasized. The benefits are long term and success is halfway guaranteed for your business or brand.
A social media plan (and a social media strategy) is needed because of the following reasons:
To Build a Strong, Organic Presence
One of the main reasons why your business needs a social media plan is because it will help you build a strong organic presence on the internet.
The fact that you can plan out your posts before the due time is good enough on its own. After that, all that remains is getting them scheduled and set. Content gets to be proofread, edited and approved beforehand.
Doing it this way will assist you in following one of the rules of social media, which is CONSISTENCY.
All of this, in turn, will help you stick to social media rule number one: posting consistently. If you stop being consistent, your social media account will stop growing sooner or later.
A good social media plan maintains and ensures a consistent posting schedule across all social media platforms. 
To Save Time
This is another reason why a social media plan is important. As you know, everyone wants more time at their disposal. There is nothing more precious than time since it can't be recycled.
Although creating your content calendar and templates is not much of an easy task, creating content ahead of time ensures a consistent brand story.
Making your social media post ready and scheduled for the next upcoming week will definitely save much of your time. You won't need to start wondering and brainstorming on what to post. Instead, you can save that time for performing other tasks.
Make Sure Your Goals Are Covered
Once you create your social media strategy (or social media plan), you will notice that your efforts are becoming more productive. Your business goals and objectives are almost being realized.
Creating your social media plan ensures that your business aims are being worked on. You can just create and publish content that is aligned with them.
A social media plan also lets you track your goals. Since a plan involves analysis and reporting, you can always make use of them to know if your efforts are paying off.
Target Your Audience More Effectively
You might be wondering how a social media plan can help in knowing your target audience. Well, it's very simple.
Your social media plan includes many elements. One of them aids in audience engagement. This can appear as a poll or open-ended questions. 
Either way, a social media strategy helps you get a better view of your target audience.
Leave Room For Creativity, And For The Creation Of Better Content
One thing about a good social media plan is that it lets you know which of your tactics are working and which ones are not.
Your social media plan will go a very long way in helping you create content that your audience really wants. It also allows you to bring creativity into your posts on social media.
To get creative, you can make use of the inbuilt tools on social media platforms. You can also do live videos for your audience on Facebook and Instagram stories.
You can also make use of Twitter chats and many other tools. Either way, you will be sending a strong message to your target audience that you really know what you are doing.
Stay Ahead Of The Competition
Another reason why you need a social media plan and strategy is that it allows you to be ahead of your journey on social media.
You will now easily observe the best routes for your strategy, how to enhance your brand and how to look different from your close competitors.
What does a Social Media Manager Do?
A social media manager is in charge of maintaining and building the brand's online reputation. They are the business' representative online to both existing and potential customers. 
This means that they are the ones who interact with your audience and online customers daily.
The duties of a social media manager may vary according to a business' needs but here are some of their basic duties.
Development of creative and engaging social media strategies.

Management of the daily activities of all the social media channels being used by the company. This may be LinkedIn, Facebook, Twitter, Pinterest, Instagram, Tiktok and YouTube.

Setting goals and plans for an effective social media strategy.

Developing relevant content topics that speak to the brand's target audience.

Creating and implementing an editorial calendar to properly manage content.

Monitoring, tracking and reporting the performance of the content on social media platforms. This is done by making use of tools such as

Google Analytics

and

Facebook insights

.

Building and expanding the brand's online community.

Tracking and analyzing key metrics and making adjustments where necessary.

Educating other team members on the use of social media and enhancing its use within the company.
Talk To Us About Your Social Media Plan And Management
Having read and understood us so far, it's high time you took a step forward. You should chat with us about managing your social media campaigns.
Prolanz Digital Services is up to the task when it comes to creating social media plans for other brands and businesses.
You can have your own dedicated Social Media Manager once you sign a deal with us. We can also do your social media marketing for you at an affordable price.
Everything is available at Prolanz Digitals, we make everything work. By the way, we remain the best Social Media Management Agency in Nigeria.