A Detailed Guide On How To Use Google My Business Effectively To Boost Customer Engagement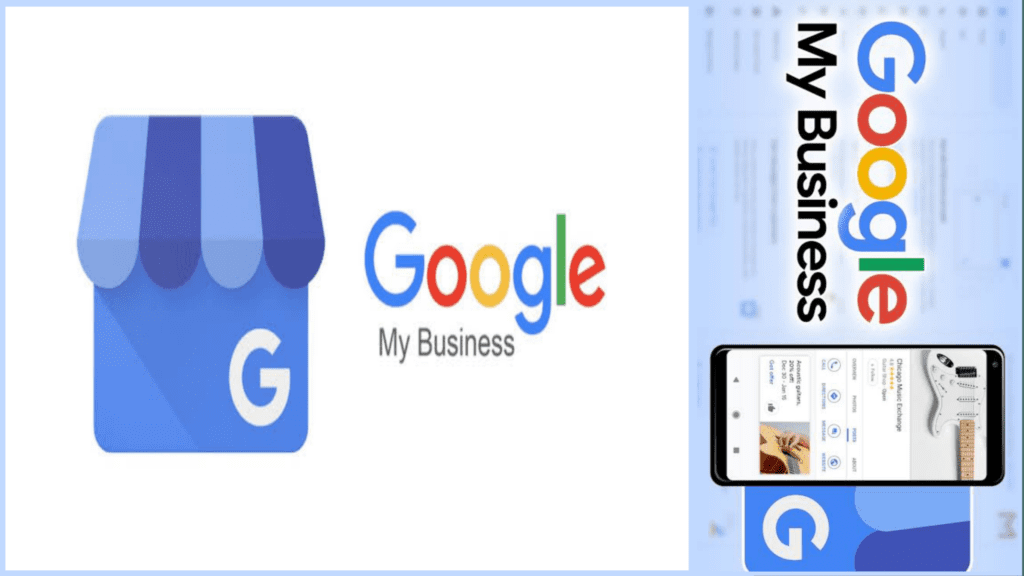 Hello there. You probably want to know a lot about the Google My Business stuff, how to set it up, list your business, and use it to get more customers.
You are in the right place. This blog post is the most simple yet detailed one you will ever read about the Google My Business feature, and how to use it to drive customer engagement.
What is Google My Business? – The Beginner's Guide
According to Moz; Google My Business is a multi-purpose service that allows individuals to highlight information and descriptions about their businesses.
You can do a lot of things on Google My Business (GMB), including getting reviews and questions, publishing of posts, photos, videos, and many more.
Powered by Google, Google My Business lets your business show up on the web whenever someone searches for your brand name or something very similar online. Just like most Google products, it's free to use. This makes it one of the best free marketing tools available to both small and large businesses.
Top Reasons Why You Need A Google My Business Account – And The Benefits
There are many reasons, or should we say benefits of having a Google My Business account. Here are some of them.
Discovery
The world is now a digital village. It doesn't matter what you do for a living, you will always notice that some, if not all your customers are online.
Even if your business is a very small one that only covers a local network, some customers will still have the urge to search for your brand, products, and (or) services online.
Google My Business works by letting other internet users discover your business. If anyone searches for your business/company on Google web or Google Maps, they will directly see your business profile.
Keeping Customers Informed
It's a good business tip that you should keep your customers updated. That way, they won't need to guess or assume certain information about your business.
Once your brand name is searched for, they will find authentic information directly from you. Note that your Google My Business profile houses your business listing. Your business listing includes your working hours, contact details, and other information that your customers will be interested in.
Updates and announcements can also be disclosed to customers via the Google My Business platform. You can post your company's progress and latest developments. This may be an expansion of branches, temporary closure, grand reopening, anniversary celebration, or any other notable update.
Having a Google My Business (GMB) account lets you keep customers informed.
Building Consumer Trust And Your Brand Reputation
With a Google My Business account, customers are more likely to patronize you. Since trust is a major factor when it comes to making purchases, potential customers tend to buy from brands that are listed on Google. Credibility from Google is enough to convince many online buyers that your business is professional and authentic.
Search Engine Optimization (SEO) And SERPs Ranking
The Google Search Engine Results Page (SERP) is the page displayed whenever someone searches for something on Google.
Search Engine Optimization (SEO) is a ranking factor (influenced by other factors) that determines which website appears on a particular page and spot on the SERP. That is why some websites rank on the first page and some rank anywhere between the 5th page to infinity.
According to Hoot Suite, Google My Business accounts to improve your local SEO. So when someone searches for you on Google, your business shows up on page 1, and not page 2 or further.
Even if you already have a website, a Google business account makes sure you rank higher.
Google My Business Features And Functions Of Each
Google My Business Profiles
This usually appears when you search for a particular business using its brand name. This can also happen when you include a location. For example, a search for "Prolanz Digital Services", or "Prolanz Digitals in Lagos" on Google brings out this: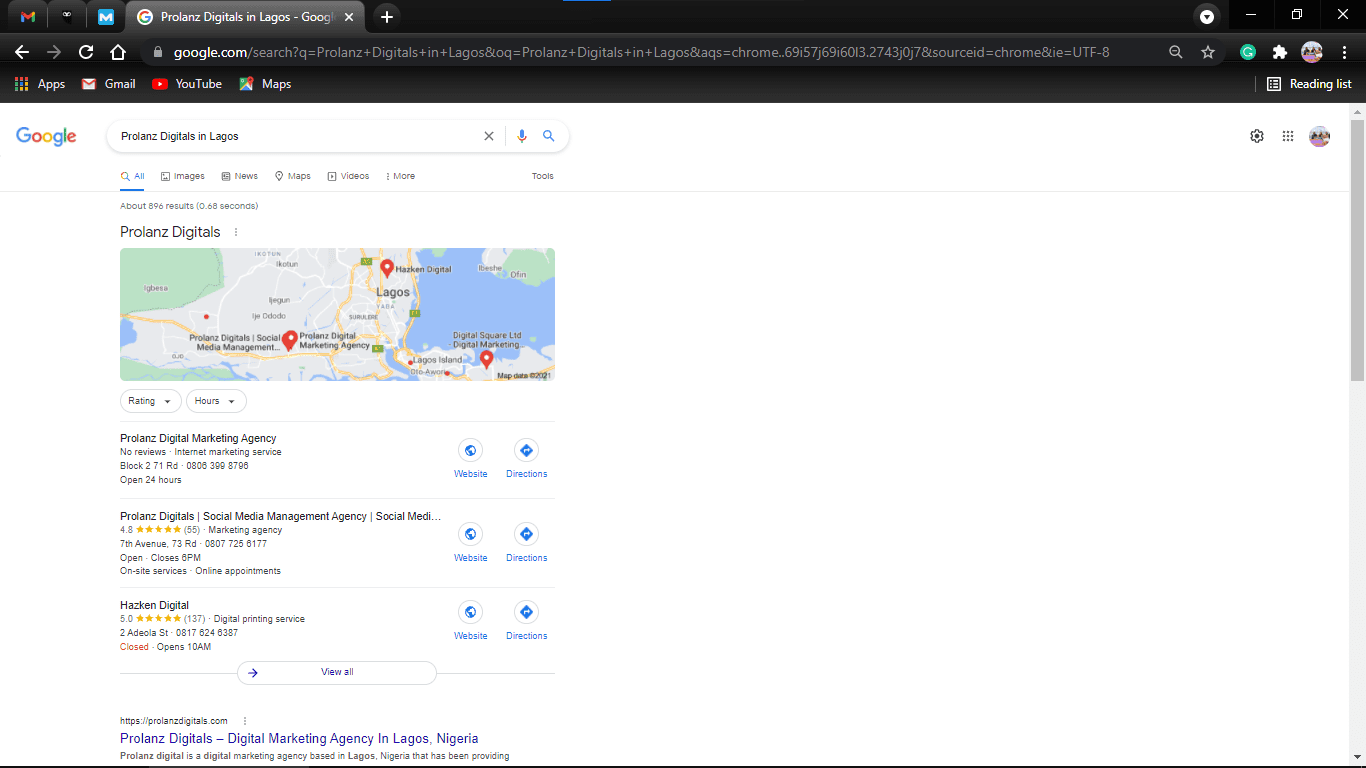 Your GMB profile shows an overview of your business by default. Your work hours, address, phone number, and other details are shown.
Google Local Packs
Local packs are displayed any time Google Artificial Intelligence picks a search phrase that contains a local intent. An example is digital "best Social Media Management brand near me", or "best Digital Marketing Agency near me". You will see Prolanz Digitals among the search results (if you live anywhere within the southwestern region of Nigeria).
The person searching does not need to include any geographic terms in the search phrase before Google AI detects the search query is local.
Google Local Finders
Now, let's assume the searcher clicks on "More Places" or "View All" in the local pack, he/she will be directed to another page. That new page is known as the Google Local Finder.
In the Local Finder, many business listings will be displayed to the searcher. Now you will be able to see many brands near your location. You can also zoom in and out of the map located at the side.
Google Maps
Searches made through Google Maps have results that are almost the same as the local finder results, although there are few differences.
Most searches on mobile devices have their results displayed on Google Maps.
Google My Business (GMB) Dashboard
Your GMB Dashboard can only be accessed and edited by you. After you have set up and claimed your Google Business Profile, you will have access to managing most of the features they contain in your GMB dashboard.
Your GMB dashboard also displays tools for the current management of your basic contact info, reviews, posts, images, products, and other features.
GMB Insights
The Google My Business Insights is an analytical feature present on the dashboard. Shows details, stats, and data including:
The number of impressions that resulted from surrounding searches for your business name or location (direct), the general searches that don't specify your business name but ate related to the services you offer (discovery), and searches that relate to brands carried by your business (branded).
Things are done by customers, like the website visits, phone calls, messaging, and requests for driving directions.
Search terms that resulted in an impression of your business.
You should read – The Complete Guide to Google My Business
How To Create And Setup A Google My Business Account
To use Google My Business to get more customers and drive engagement, you have to create an account. Follow the steps below.
Have A Google Account
It's a fact well known that most Google services require users to sign in with a Google account. You can create a special Gmail account for Google My Business or use an already-existing one.
Sign In To Google My Business
Sign in with the Email you will like to be displayed to your customers or anyone that visits your profile.
Input Your Business Name
The next step is to enter your business name. If you share the same name with another business in your area, you will see the autocomplete function suggesting those businesses for you.
This will let you see if your business listing already exists; in order to avoid duplication by mistake. This also allows you to add a new GMB profile to an existing business, in case you have just opened another branch at a new location.
Input The Address Of The Business Location
If your business is one that involves face-to-face engagement with customers, you should provide the office address of your business.
Select Your Business Category
You should be very careful in this step, as it determines what search terms and phrases your business will rank for.
From the drop-down menu, you can choose your business category and proceed to the next step.
Add A Phone Number And Your Website URL
Although both are not mandatory, it's advisable to provide the details. That will help you gain more out of the Google My Business features.
Verifying Your Google My Business Account
For your setting up to be successful, Google must verify that your business is as you say it is. You can get verified in 3 ways.
Postcard Verification
The most used verification method is available to all businesses. In this process, a verification postcard will be sent to the address you provided when you were creating your account earlier (it should get to you within five days).
When you receive the postcard, you can input the code in your Google My Business account to verify your business. You can also request another code by clicking the 'Request another code' button at the top of the GMB page.
Phone Verification
Some businesses are provided the option to verify their business listing through the phone. When making use of this process, you will receive a message with a verification code. it is this code that you will then input into to verify your Google My Business account.
Email Verification
Just like phone verification, this method of verification is available only to some businesses. You will know you qualify for it by seeing the 'Verify by email' option. If it doesn't appear, then it means that you are not qualified for it.
This method of verification involves receiving a code in the inbox of the Gmail account you used with your Google My Business listing.
How To Optimize Your Google My Business Account – The Ultimate Guide
GMB optimizations are things you can do to enhance your Google My Business profile. They have been mentioned and explained below.
Fill Out Your Whole Profile
This demands that you provide as much information as possible. Each additional slot you fill with information may turn out to be what will make your GMB profile rank high for a particular keyword or search phrase.
Standout With Photos
When you create your Google My Business profile, you will be able to add a logo and cover photo. Without uploading these images, it will be difficult for people to recognize your brand online.
How To Upload Photos To Your Google My Business Profile
Sign in to Google My Business.
Open the location you will like to manage.
Tap on Photos from the main menu.
Select the type of photo that you will like to upload.
Upload your photo or select one that you have previously uploaded.
Post News, Updates, And Special Offers
One of the benefits of Google My Business is that it allows you to post updates and information as many times as you like.
You should regularly inform your customers about the latest updates and recent developments. That way, you will be at an advantage to use Google My Business to get more customers and boost customer engagement.
How To Create A Post On Google My Business
Sign in to Google My Business and open the location you will like to edit.
From the left hand menu, tap on Posts.
Select the type of post you want to create.
Input relevant details in each field. Your post should include the necessary details and also be straight forward. Remember that this is an official and formal release that will be read by all your customers. Do away with commercial slangs and unnecessary punctuation.
Preview your post to double check your formatting and spelling. If you need to edit your post, tap on the back arrow.
Once your post is ready, click on Publish.
Prompt Customers To Write Reviews
You should encourage your customers, both old and new to leave a review on your profile.
Potential customers trust other customers' reviews more than they trust yours. A good review from an old customer may convince another potential customer to patronize your business.
After all, the essence of creating a Google My Business account is to get more customers and drive more engagement.
To make the whole process easy, you can copy and send your review link to your customers, politely asking them to drop a review.
Here is one thing. Don't persuade them. A customer or client will drop a review of the products or services purchased from your brand merit and deserves a review.
Here is what a review link look like: https://g.page/r/CWJKZR3JAVH6EA0/review
In fact, this review link belongs to us, Prolanz Digital Services, the best Social Media and Digital Marketing Agency in Lagos, Nigeria.
Respond To Reviews
One thing is getting reviews. Another is responding to them.
Responding to a customer review on GMB shows that you are appreciative and you hold your customers in high regard.
It also shows you are professional and actively involved in the day-to-day management of your brand.
Add Special Features And Attributes
These are added features that display certain information about your business. This type of information can not be better expressed in any other way. For example, according to Hoot Suite:
Hotels can show class ratings and list amenities offered in each.
Restaurants and bars can upload menus, display popular dishes, and add a link for online orders and reservations.
Service-oriented businesses can display a service menus and add a booking button.
Small and medium-sized companies can add product catalogs.
The Bottom Line
By now, you have learned everything you need to know about the Google My Business service. However, you should keep in mind that setting up your Google My Business profile is just the beginning.
Fill out your details, add professional images and attributes, encourage customers to write reviews and post news, updates, and offers from your brand regularly.
We remain Prolanz Digital Services, the best Social Media and Digital Marketing Agency in Lagos, Nigeria. We are also into content writing and Email marketing.
Let us know about any questions you have in mind and thanks so much for reading.